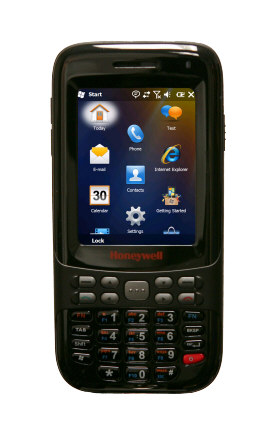 The Honeywell Dolphin 6000 Scanphone has been designed for today's mobile workers who require real-time communications and access to critical business data to make informed decisions at the point of customer service. Many of these information workers utilize multiple devices—such as smartphones, VoIP phones, two-way radios, laptop or tablet computers, GPS navigation systems, and bar code scanners—throughout the day. Honeywell's Dolphin 6000 Scanphone converges the functionality of these devices into a single, durable, and affordable pocket-sized device.
Unlike fragile consumer-grade mobile phones, the durable Dolphin 6000 delivers years of reliable operation. Featuring an IP54-sealed enclosure, the Dolphin 6000 can endure exposure to dust, dirt and splashing water, and survive accidental drops to concrete from up to four feet. An optional three-year Honeywell Service Made Simple plan helps ensure device availability and performance at fixed costs.
The Integrated Global Positioning System (GPS) technology enables location-based functionality such as turn-by-turn navigation, and route optimization, and the ability to document proof of visitation or service with a time and location stamp.
Features:
Windows Mobile 6.5
Bluetooth, WiFi and GSM/GPRS/EDGE voice and data
2.8" 240 x 320 QVGA colour display
Laser barcode reader
User accessible Micro SD Card Slot
Rugged, dust and IP54 protected
29 Key Alpha/Numeric keypad
12 month return to base warranty with extended full care options available