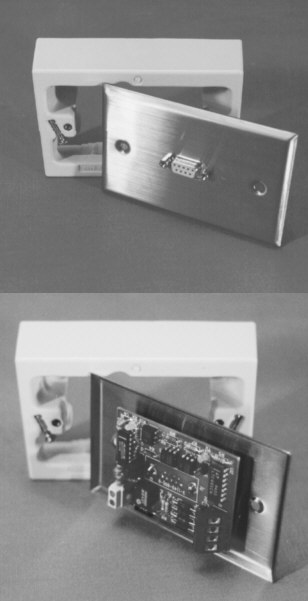 The Unique Micro Design Model 153 is an electrically isolated bidirectional interface converter for RS232 to RS422 / RS485 signals. The Model 153 is ideally suited for driving serial data over long distances, especially where differing ground potentials may occur between connected nodes or where protection from electrical interference is required. When used in RS485 multidrop mode (master - slave), the transmitter is enabled by asserting either the Data Terminal Ready (DTR) or Request to Send (RTS) lines on the RS232 interface (jumper selectable).
RS232 to RS422 / RS485 bidirectional interface converter.
Jumper Selectable RS422 or RS485.
Electrically isolated to 200 Volts (Transorb® protected).
UMD standard DB9 Socket DCE serial connector ( mates with UMD products ).
Powered from regulated 5 volts DC connected on RS232 DB9 connector or
Unregulated 7 - 9 volts DC through terminals on the circuit board.
Circuit Board designed to mount on Standard Pattern Flush Mounting GPO wall plates.


12 months warranty.
Designed and manufactured in Australia by Unique Micro Design.