Engineering IoT Solutions
in
Radio Frequency Identification
(RFID)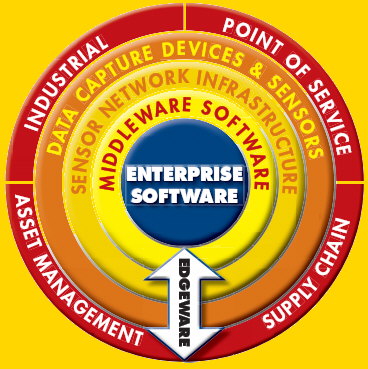 Since 1983, Unique Micro Design (UMD) has been solving customers' needs for real time visibility and control using edgeware and our engineering IoT solutions skills, which reflects our ability to:
Design and manufacture IoT devices and interface electronics
Source and integrate ICT products from our agencies
Support through our professional, engineering, software and support services.
Internet of Things (IoT)
The Internet of Things (IoT) is an ecosystem of:
Devices and sensors
Application services
The Enterprise
And uses the following technologies:
Barcoding
Digital communications (eg. BLE, Cellular, Ethernet, LORAN, White Space, Wifi, Zigbee etc)
Embedded computing
Mobility
Sensors and actuators
Radio Frequency Identification (RFID)
The Internet
The Value of IoT
IoT systems and solutions can be used to:
Convert "dumb" assets and "disparate" systems into "smart" assets and "integrated" systems
IoT enable businesses to

enhance their product and service offering
optimise and enhance their operations
Which results in a business transformation and disruptive applications.
IoT Enable Your Business
UMD provides products, systems and solutions in IoT.
To support this, UMD is divided into two sales teams:
UMD adding "eyes" and "ears" to software
---
UMD uses its engineering IoT solutions skills in RFID to provides products and services in:
Design and manufacture custom RFID reading systems and portals
Custom development of Interfaces and controllers
Supply RFID active and passive tags
Supply RFID fixed and mobile readers
Supply RFID antennas and accessories (mounting hardware and cables)
Software and middleware
Embedded RFID collection and interface software
Platforms, Infrastructure and Software as a Service (including hosting services)
Engineering and Industrial Design
RFID Site Surveys and Installation
Architectural systems design and implementation
RFID Workshops
As RFID represents a range of technologies no single RFID vendor (and tag) can provide a solution to fit all applications. Thus access to a broad range of technology offerings is important.
UMD RFID Vendors.
Alien Technologies- RFID Inlays and Labels
Chainway - Fixed and mobile RFID Readers
Confidex - RFID tags
Feig - Readers
HID - Extensive range of UHF, HF and LF RFID Tags
Honeywell - Sensing & Productivity Systems: RFID mobile, fixed and printers
iData - Fixed and mobile RFID readers
impinj - RFID chips and Readers
SAG - Specialised / Sensor RFID tags
Texas Instruments - LF & HF technology
Times-7 - UHF Antennas
Troi - Industrial, rugged and high temperature RFID Tags
UMD - engineering ICT solutions and own manufactured equipment and interfaces
Xerafy - UHF RFID Asset Tags
Zebra - Full range of RFID equipment and tags: Tags, fixed and mobile, printers (fixed and portable)
4ID - RFID wristbands and RFID Tag Converter
Furthermore, UMD's engineering IoT solutions capability is well suited to RFID implementation, as RFID solutions need to be engineered. For example, consideration needs to be given to:
Physics of tags, readers, and materials
Environmental considerations
Type and placement of tags
Data management
Business process re-engineering
Interfaces and sensors, just to name a few.
UMD's RFID offering is provisioned through its Business Solutions Team" which provides RFID solutions design, deployment and support services to Systems Integrators.
---
Business Solutions Group Contact Details
Phone:

Local: (03) 9582-7070
International: +61-3-9582-7070
E-Mail:
Sales Brochure: