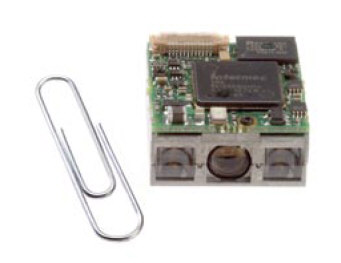 The EV15 is based on Intermecs bi-linear CMOS sensor using state-of-the art Active Pixel Sensor (APS) technology. This makes the EV15 ideal for OEM applications, where space is limited, for scanner integration in both portable and fixed devices.
Terminals, PDAs, lottery terminals, time and attendance terminals, ski-pass, automated sorting machines and tape libraries are examples of where the EV15 will be right at home in your OEM application.
This module concentrates the exceptional performance of the ScanPlus 1800 Vista into a compact industry-standard form factor.
Features
Small, high performance barcode scan engine
Supports all common 1D barcodes and PDF-417
Bright scan line
Depth of field upto 50 cm
Reliable solid state technology with low power consumption
Ideal for integrating into equipment requiring barcode capability
12 month Warranty