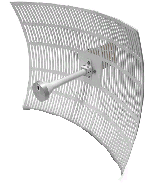 Unique Micro Design's (UMD) RF Wireless Engineering Services are a collection of professional and support services which can be used to design, install and support wireless infrastructure, including RF Wireless Warehousing, Retail outlets, Education and Healthcare campus's, and Point to Point network bridging.
We use our engineering information and communications technology (ICT) solutions skills to:
Design RF systems
Determine network interfacing requirements (including security considerations)
Conduct RF site surveys
Pre-configure Radio terminals and Wireless Access Points
Conduct and manage installations
Commission sites, and
Provide ongoing after sales support.
These services are designed to:
Enable our Partners to implement wireless systems and network infrastructure, without needing comprehensive in-house expertise
Minimise the risk associated with wireless infrastructure and ensure adequate radio coverage

UMD Sells, Supports and Installs Cisco, Motorola (Symbol) and Legacy Intermec Access Points and Wireless Switch Technology.