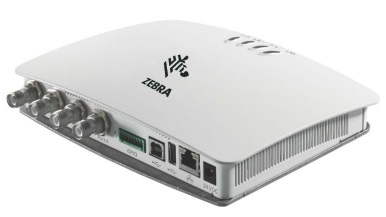 The Zebra FX7500 RFID Reader has been designed from the ground up with a radio for faster more accurate read rates and more consistent performance, in challenging environments. This has then been paired with a flexible Linux-based network architecture that integrates the tools and open-standard interfaces needed for fast, easy deployment in your RFID deployment and back-end applications. The result is a fixed RFID reader that sets a new performance standard – delivering peak performance at all times with excellent reader sensitivity and better interference rejection, at a lower cost per read point.
The FX7500 comes in a sleek, attractive form factor with a low profile and compact footprint, at home in nearly any business environment. But it also looks good on the balance sheet, with an impressive array of integrated features and functionality that pack value for your business class applications. An integrated optically isolated General Purpose Input/Output (GPIO) interface means there's no need to purchase, install and manage additional hardware. The ability to host productivity-enhancing, third-party software tools, makes it easy to support your business operations. Available two or four port option adds deployment flexibility so you can purchase only the readers you need, no more, no less. In short, building on the FX7500 lets you protect your RFID investment and achieve a lower total cost of ownership.
Features
High performance radio technology
Integrated Power Over Ethernet (POE)
Optically isolated GPIO
2-port and 4-port reader configurations
Software-based radio technology
12 Month Return to Base Warranty with Extended Maintenance options.