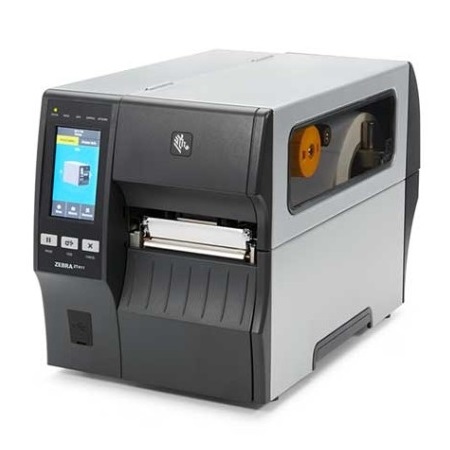 The ZT400 Series builds on the field-proven reliability of the Z Series™ with advancements in print speed, print quality and connectivity options. Designed for ease of use, the ZT400 Series printers offer an intuitive icon based LCD graphical user interface and easy supplies loading. And, they include standard USB, Serial, Ethernet and Bluetooth® capabilities. With Optional Expanded RFID capacities the ZT400 can deliver greater tracking abilities, deeper visibility and enterprise insights.
The ZT400 Series is offered in both 4" and 6" models and comes standard with an extensive set of advanced features that ensure your printer investment will always meet your needs, now and in the future. Constructed using an all-metal frame and bi-fold door, this printer is designed to fit well in space constrained environments.
Built to deliver outstanding print quality under the most challenging industrial conditions, ZT Series RFID printers virtually eliminate operational downtime due to printer failure. Their durable, all-metal designs hold up against extreme temperatures, dust, debris, moisture and worse. And high-quality print mechanisms and internal components deliver superior print quality and speed across the widest range of applications.
Featuring Zebra's Link-OS® environment — an innovative operating system combining a powerful Multiplatform Software Development Kit (SDK) and software applications—ZT400 Series printers are easy to integrate, manage and maintain from any location around the globe.
Features:
DT & TT printing
8" diameter label roll on a 3"core
Tear-off or label peel; tickets or tags in rolls or fan-folded
Rugged and Reliable
203, 300 or 600dpi print resolution options
Optional RFID reader/writer
User Friendly - from loading labels to changing the print head operations are quick and easy
EPL, ZPL and ZPLII Language selectable
Optional Zebranet 802.11a/b/g/n Print Server
12 month Warranty with Extension options