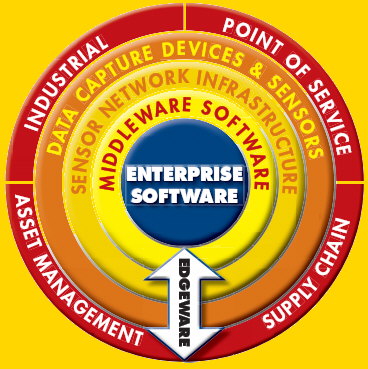 "Adding Eyes and Ears to Software"
Real Time Visibility & Control for
Asset Management Systems
Inventory Control Systems
Point of Service Systems
Integrated Payment Systems
Using
Edgeware and our engineering IoT solutions skills in supplying and integrating technologies in:
IoT (Internet of Things)
RFID (Radio Frequency Identification)
Barcoding
Mobile computing devices & peripherals
Warehouse terminals
Point Of Sale / Service
Industrial electronics & interfaces
Wireless infrastructure
Payment gateways
UMD has joined the new IoT Alliance Australia Organization formed recently to explore the rapidly developing world of the Internet of Things (IoT). UMD already has a number of IoT cloud based data capture systems and services, with more under development.
Plant Access Grows Its Competitive Edge with Industry-First RFID solution implemented by UMD using Honeywell Scanning & Mobility (HSM) RFID tags, Readers and UMD's engineering ICT solutions skills. See HSM Case Study for details.
UMD was a finalist in Melbourne's South East (MSE) Business Award for "Medium Enterprises". MSE is a regional economic development alliance of ten local government authorities (Councils) and utility companies with support from State and Federal government departments.
UMD Press Release:

StickNFind Bluetooth Beacons for Enterprise Asset Tracking and Customer Engagement now available from Unique Micro Design

Manufacturing has a future. Being agile and flexible are the keys to surviving, 30-year manufacturing veteran Geoffrey Ramadan believes. Read more at The Herald Sun

UMD Wins Monash Business Award for Innovation
UMD has been presented with the 2012-2013 Innovation Award at the 19th Annual Monash Business Awards (MBA) evening. Founded in 1994, the MBA aims to promote business excellence and success by recognising the significant achievements and innovations of businesses situated within the City of Monash.

For more information about the Monash Business Awards please refer to the website: http://monashbusinessawards.asn.au/

UMD Prize - Monash University
Ms. Kelsey Rowe has received the UMD Prize for 2013 at the Monash University Engineering Awards Presentation Dinner which annually recognises students and staff for their outstanding achievements. The prize is awarded to the graduating student ranked second overall completing the Bachelor of Computer Systems Engineering course. Kelsey's final year project sought to determine the boundary conditions where added reactive power compensation is required to ensure a "generic" wind farm meets the required grid codes.

We congratulate Kelsey on her achievements and wish her the very best for the future!

Skybus - Bus Ticketing System
UMD develops Bus Ticketing System for Skybus; a Melbourne based private bus company that specialises in providing express bus services between Melbourne Airport at Tullamarine and Southern Cross City Train Station in Melbourne. (View the Project Summary for details)

Mazda Zoom Zooms with UMD!
As part of Mazda's development of its new 20,000 square metre spare parts warehouse in Somerton Victoria, UMD has supplied and installed infrastructure consisting of Intermec CK3 wireless hand held terminals, Intermec PB50 portable printers, Aruba Networks redundant wireless controllers and access points, UMD custom multi-device charging bay and all electrical and data services.

Parramatta Stadium, home to the NRL Eels, has stepped up to the benefits of the UMD-VAST™ patron access control system. We wish the stadium a happy 25th Anniversary!

Try On Your Sound @ Cotton On: UMD developed and installed the first of its new Retail Edgeware Application Platforms and custom RFID terminals, into change rooms at Cotton On's Carindale Brisbane store. RFID tags attached to specific lines of clothing are read by the terminals as customers enter a change room, playing music selected by Cotton On which matches the mood of the clothing. See press here, here and here. RFID Journal

In the swim: UMD VAST™ was implemented just in the nick of time to allow the public to attend the 2012 Australian Swimming Championships at the South Australian Aquatic and Leisure Centre in Adelaide. Here UMD VAST(tm) is connected to Ticketek's ticket issuing system.

Fun and games: The City Of Unley in Adelaide use the UMD-IPAS system(Integrated Point of sale and Access control System) to provide their aquatic centre with an integrated ticketing, access control and point of sale system. Kaba Australia provided the swing gates.

Boosting visitor interest and involvement with exhibitors: UMD's RFID-ActiveFrame made its debut at the Australian Direct Marketing Association (ADMA) forum at the Sydney Convention Centre on 16 & 17 August 2011 as part of Centryc Solution's Customer Interaction Management service.

The RFID-ActiveFrame incorporates two contactless RFID readers, WiFi communications and a software customisable embedded controller behind a versatile A4 poster clip-frame. The frame was used to display printed marketing collateral encouraging registered users to record their interest in a particular stand by touching an RFID wristband against defined areas on the frame.

The system works by transmitting in real-time the ID of the wristband via WiFi wireless communications to Centryc's internet based service which, for example, prompts users via SMS to visit a random selection of stands.

Edgeware at Luna Park: UMD was a pivotal "edgeware" technology partner for the iconic Luna Park Sydney's "My Experience" interactive entertainment initiative as launched on Saturday, 2 July 2011. UMD provided the "eyes and ears" to the Centryc Solution marketing platform which formed the basis for the initiative. UMD provided its new range of RFID Pad Readers to read the RFIDnPrint supplied contactless wristbands. It also developed custom technology and middleware to seamlessly interface to the legacy back office access system and provide mobile kiosk M2M communications. Read the Luna Park press release for further detail.

Aussies at Bangladesh: UMD have supplied Honeywell Singapore a patron access control system comprising UMD-VAST™ software, mobile computers and custom turnstile electronics for the Bangladesh Cricket Board. This was installed for the 2011 World Cup Cricket in preparation for the ICC Cricket World Cup 2011. See here for details.

UMD at the races: The Australian Turf (nee Sydney Turf Club and Australian Jockey Club), Melbourne Racing, Moonee Valley Racing and Victoria Racing clubs all use UMD VAST™ to manage patron access.

Edgeware watches the washing:

Stewart & Heaton Clothing Company selects UMD to deliver RFID track and trace system based on UMD's Edgeware Application Development Platform for their MFB supply contract. Details...



Warehouse mobility:

Symbion Pharmacy Services have selected UMD for the implementation and upgrade of their Warehouse Distribution Centers in Melbourne, Adelaide and Perth, utilising the Intermec CK31 Mobile Terminal and Cisco Network Infrastructure.